it's healthy.
BottlesUp's glass water bottles are fun and safe to drink from—glass is the purest and healthiest material to use for beverages. You get clean taste without metal or plastic flavors or lingering odors.
it's green.
With 75% recycled glass, food-grade silicone caps and rings, and no plastic in the product or the packaging, we believe that BottlesUp glass water bottles have the lowest carbon footprint in the industry.
it's art.
Our challenge was to blend beauty + utility. We've created an everyday object that combines the magic and clarity of glass with sophisticated, practical design.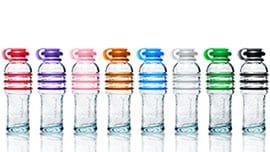 16 ounces bottles | 8 colors
Check out our beautiful textured art glass water bottles, now in two sizes along with 8 great colors of translucent food grade caps and gripper rings.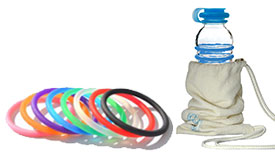 accessories
They're here - On the GO Bags
Mix it up with Extra Caps and Rings
Filter that tap water with Kishu