There is an indescribable beauty to the interaction of glass and light. Here in our Bluffton studios, we have glass installations that change the play of light into the studio depending on the time of day and also the time of year. For
Recycle Glass Month
, we'd like to share the beauty of recycled glass through Kathleen Plate's recently revealed Smart Glass Guggenheim Chandelier.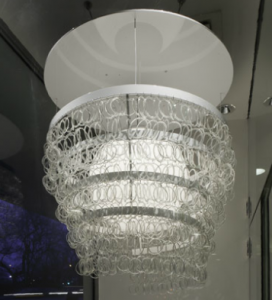 "The spiral lighting fixture, inspired by the architecture of the Guggenheim Museum, features a white globe light and glass rings. The chandelier made its national debut at the Guggenheim Museum in New York during the Architectural Digest Home Show and now moves to its current home at Switch Modern in Atlanta."
Kathleen's beautiful pieces are made from recycled glass from soda, wine, beer and even salad dressing bottles.  It's another clear example that glass – with its three simple and natural ingredients – can be endlessly and beautifully recycled. In addition to the Smart Glass Guggenheim Chandelier and Kathleen's other works of art for the home, she is the founder and designer of Smart Glass Jewelry with this beautiful work showing up on fashion-forward runways and the small screen.
You can bring more of the beauty of recycled glass into your world, whether you make the smart, healthy choice for a reusable glass water bottle or make your next jewelry piece a declaration of sustainable luxury – you can discover the beauty, simplicity and endless
potential of glass.