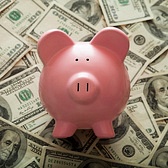 Here's an easy way to save money that even the Daily Worth folks might just like: stop drinking bottled water. Instead use readily available tap water and a resuable glass water bottle. This one small step might just save you nearly $1,000 a year. How'd we find that number? The team over at New American Dream developed this handy bottled water cost calculator to help you understand just how much money you can save by making the switch.  
Go ahead, see how much you can save. 
And, after you calculate your savings, start planning what you might do with all that new-found money and let us know. Here's how we plan to share our savings – by reinvesting into our local communities.