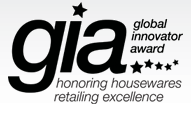 Wow! I know it's late, but I had to share – tonight, BottlesUp glass water bottles were named one of six finalists for the 2011 International Home & Housewares Association gia awards (that's the Global Innovator Awards) at a gala event hosted at the Four Seasons Chicago.
Wow! What does this mean? It means of all the products in this massive show, that our reusable glass water bottle that blends art, function, and environmental responsibility was recognized by a juried group to be among the very best at this year's show. It's very humbling, surprising, and exciting.
And just like everything we've experienced with IHA, this event was superbly well done and highlighted the best in the retail industry. The joy on designers faces as their products were called, the sheer delight of retailers whose stores were recognized – it was outstanding.  All of the people there are dedicated to bringing you the very best design and retail experience – that's their work, their career, their joy. 
As our name was called (and really, we were at Table 29, who wins from a table that far back?) we were shocked in a most happy way. We were just happy to enjoy the great food, cool band that was clearly talented, meet other great designers and retailers, and listen to an emcee who was as comfortable with Spanish as he was with Swedish as he was with Russian, That's talent!  As the spotlight shone on laurel and the whole room applauded, we too experienced the joy that good design can bring.
Congrats to every single honoree and finalist for the gia awards, we're in great company!