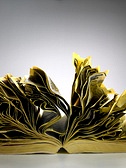 If you're like me, you're one of the more than 70% of Americans who rarely or never look at the Yellow Pages – the behemoth book of business listings that comes unannounced to our doorsteps. I live in an area where I get not just one, but four different of these kinds of books every year.  Four! And while, I faithfully recycle these books, but the damage is done. They were already printed, transported and delivered wasting precious resources on a product few of us use in our homes.
Now, however, we can opt out of receiving any of the Yellow Pages that litter our doorsteps, thanks to the trade association that manages Yellow Pages.  To opt out, click over to www.yellowpagesoptout.com and register. You have to enter your address and phone number, but a note from the trade association on the page promises that this information won't be used for any purpose other than the opt out
It's not just by recycling plastic and using resuable glass water bottles that can help your health and the environment, you can stop paper waste from showing up at your doorstep with one easy click.